Svetlana Yesin was born and raised in Pervomaisk, Nikolaev Region of Ukraine to parents who were dental technicians. Growing up, she spent countless hours in her parents' laboratory, observing the creation of crowns and dentures. From a very young age, Svetlana developed an interest in art and science and passion for helping people. She wanted to become a dentist, but it seemed like an unattainable dream at that time. She finished youth art school and later on obtained her nursing degree. Working in the hospital as a nurse started her career in healing.
In 1993, Svetlana and her family immigrated to the United States. They arrived in San Francisco and have called the Bay Area their home ever since. After qualifying for her license as a Registered Nurse, Svetlana began to work as a neurosurgery/orthopedics clinical nurse at UCSF Hospital.
With the experience gained as a nurse, Svetlana became very interested in the effects of oral health and nutrition on the whole body. She completed pre-dental requirements at San Francisco State University and was accepted to UCSF dental school.
Upon graduating from University of California San Francisco School of Dentistry in 2002, Dr.Yesin immediately sought out mentors in holistic dental education. She began integrating her newly gained skills and knowledge acquired at the dental school and with the latest research and therapies in biological dentistry. For the next six years she worked at different modern dental offices gaining practical skills before opening her own practice, Integrative Dentistry, in 2009. In her practice, she devotes her time to providing state-of-the-art, integrative, safe and compassionate dental care to her patients.
With over fifteen years of experience, Dr. Yesin is as committed as ever to quality care and continuing education, as well as sharing her knowledge with patients and other practitioners. She is a lifelong learner, frequently attending many seminars and conferences to stay up-to-date on the latest techniques and science.
Dr. Yesin successfully completed trainings in:
General and Cosmetic dentistry, Biological Integrative Dental Medicine, Biomimetic dentistry, Minimally invasive dentistry, Occlusion, Implantology, Safe removal of Amalgam fillings, Ozone therapy, ALF and functional orthodontics, Invisalign, Clinical Homeopathy, Osteopathy, Nutrition and related subjects.
Some of Dr.Yesin's professional affiliations include: International Academy of Biological Dental Medicine (IABDM), Holistic Dental Association (HDA), International Academy of Oral Medical Toxicology (IAOMT), ALF InterFACE, American, California and SF Dental associations.
Outside of her dental practice, Dr.Yesin enjoys shopping at the farmers market, cooking, traveling, and spending time with her husband and two sons.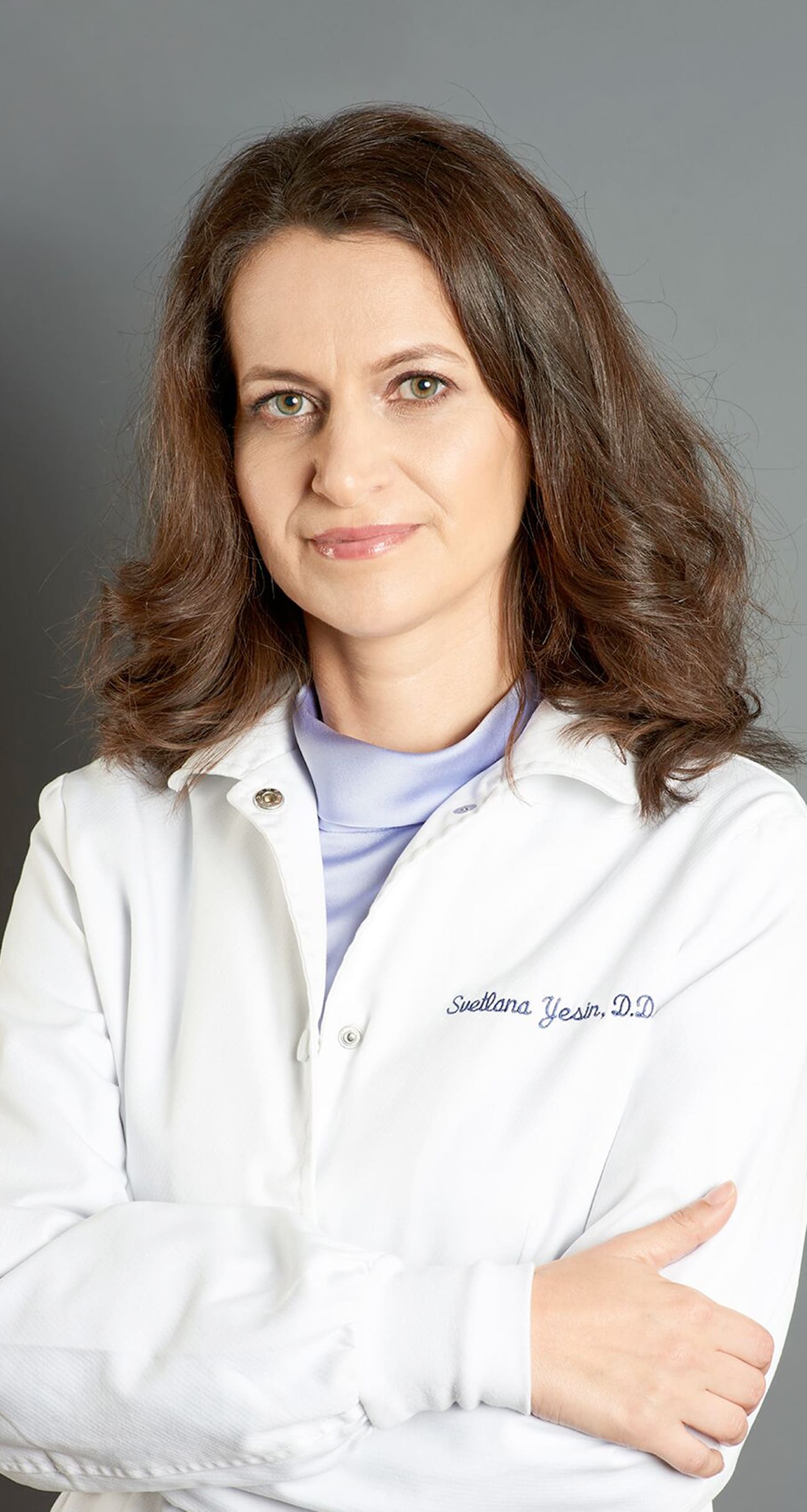 ---